---
Nope, not just you!
Whenever I see that grille in my rear view mirror, I assume it belongs to one of the Toyotas that Aston Martin rebrand and sell with their own badging, but it's usually some Ford.
Saying this; there's apparently a new Cygnet coming which is based on a lengthened Ford Ka, whether it replaces the ten foot long Toyota-based model or sells along by it I haven't been able to discover, but perhaps Ford's use of that grille is why AM chose a Ford as the basis of their newer Cygnet?
Current: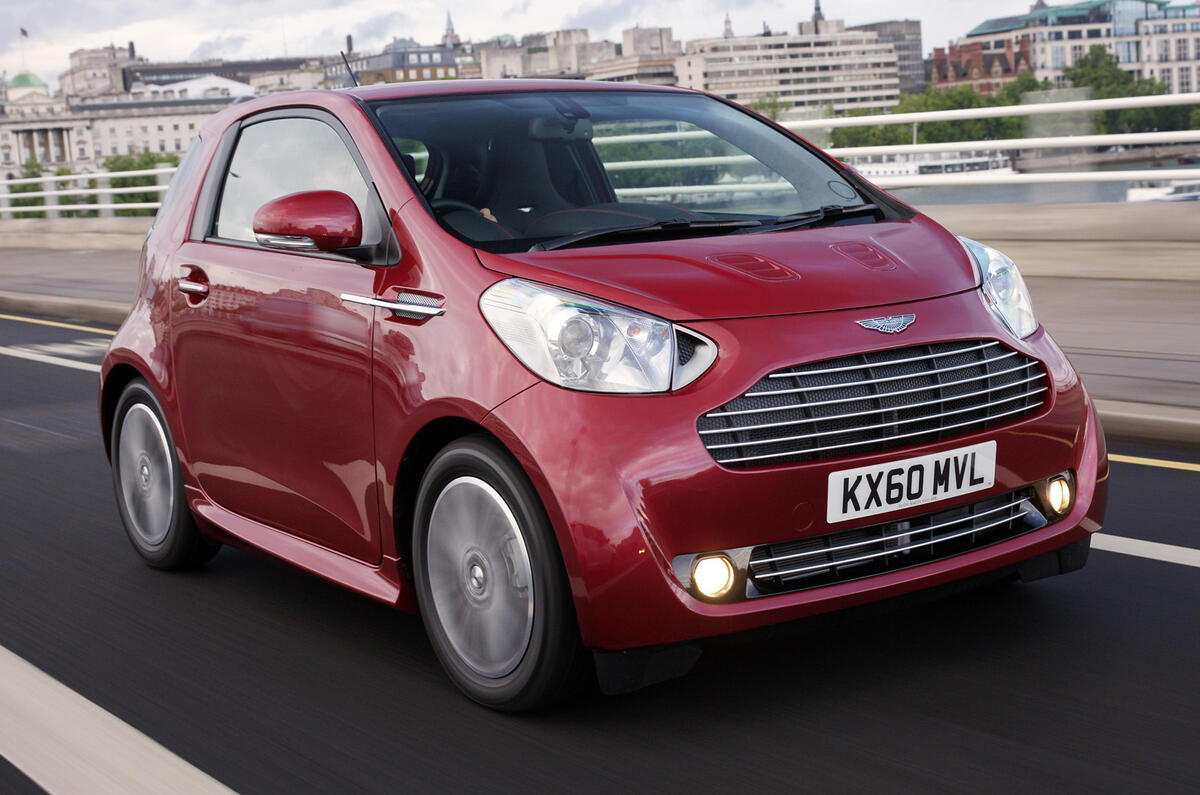 New:
Which half is the Aston?
Wouldn't want to change a lamp in any of the above! Wing off job by the looks of it, modern crap.
JB
I didn't go looking for the current fleet, they just sort of followed me home and now they won't leave without an extradition order from the Japanese government..

---
Posts: 701
Joined: Tue Apr 12, 2011 8:03 am
Actually JPB you'd be surprised. My Mk3 Mondeo and I believe the new one is the same has a headlamp held in with 2 tabs you slide out and the whole headlamp comes out. It's quicker than changing a sealed beam unit!
Ford still retains a 10% share in AM which is why the design looks similar. In the Fiesta the grille is ok, the Focus I think it looks awful but I LOVE the Mondeo, so much so I'm planning on getting one next year. I've been lucky to test a few too and really like them. Yes they are new, yes they are gadgety but perfect for the wife
Currently classic-less.
---
Posts: 176
Joined: Wed Jan 05, 2011 7:18 pm
Location: Co,Limerick.Ireland.
The new Mondeo is a rather handsome beast,

Had a good poke around one at a show recently,but was disappointed at how light everything is,
the center console in particular seems very flimsy.
opened up the bonnet too and noticed it had an alarming amount of flex.
Didn't get to drive one,but I'm sure they are pretty good.

The Mk4 feels like a much better built car.
I've had a 2.0 tdci for the last 4 years and love it.
---
Ford of the last 20 years has changed much for the better.
I didn't like the Sierra or the MK1 Mondeo. I didn't think much of the Cortinas but now think what great cars they were.

Modern cars aren't crap☺☺☺☺☺
Its would be difficult to find a new modern car that is bad.
As a retired pro grease monkey. Its easy to imagine that all cars seem to go wrong. But the truth is that most modern stuff doesn't break down and goes for years and 100k to 200k miles.

Light bulb replacement. Some designs are plain stupid. Because bulbs do blow hopefully not too many.

My Jeep. The grill and surrounds have to come off. Its a right pita. Fortunately only once.
My Shadow is very easy. Traditional take the lens off for the front. And rear access for the rear lamp clusters via a Tenex fastener fit to the boot carpet. Plus the tool kit has spare bulbs. Again this car doesn't blow bulbs.



Interesting bit of information about Lucas 5 3/4" Twin headlamps.

The out board headlamps have dip and main the inner ones main only. The main beam on the outers is made slightly out of focus to give more light spread. The inners are in focus (main beam).

Bob
---
Its would be difficult to find a new modern car that is bad.
*Face sore from the laughing that this comment caused in the room*
Try S**1G**, N*13V*N and the other one whose index escapes me for just now were beyond bad, they were bloody terrible! All three were purchased as split new cars that should have lasted and been reliable but alas, I rejected the lot as all were below a standard that was considered fit for purpose.
DPFs I can live with
, though I must say that I'm enjoying not having to. Radar guided cruise control and automatic braking whose purpose is to try and cause a nasty road rage incident? No ta, I prefer to drive the car rather than the other way about! DAB radio? OK, you got me there, I bought and fitted one to the 25 year old modern car over there <<<< but only because I'm a BBC 6 Music addict and also needed the connectivity for my phone and laptop, but it can't be a good thing when the only way in which a new, £24,000 car from a "premium"
manufacturer is only (subjectively) superior by virtue of its wireless set to a far better built, older car that trumps the new one in every other way. And cost less than a 48th of the modern thing's price.
The jalopy approach has far better seats that are still plump and comfortable at 73,000 miles whereas two of the awful moderns needed attention to their base cushions, lumbar pad adjusters and in one case; to a broken weld in the frame. The older motor is on its original bushes, dampers and springs yet copes with rough roads in a manner that none of the moderns I tried, even the ones I owned, could achieve in spite of all being ordered with relatively large aspect ratio tyre options from those available. The modern brakes seem to be universally far too sensitive and lack progression, which is bugger all use to one whose feet don't feel and OK, so that <<< gets low 40s MPG at best, averaging high 30s as opposed to the very real mid 60s average of the modern Diesels but as long as I can produce evidence that it is capable of bettering 40 to each gallon, I get my allowance just as I would for a new car and best of all; because it's a wee bit beyond its warranty I can service it at work rather than being tied to manufacturers' requirements regarding o/e parts and such.
So some folk may well have found decent moderns that work for them but if they're all that wonderful, why do the same folk also run old cars when these days, there are many options up to and beyond thirty years of age that can be used daily, won't fall apart and will cause so much less pain in the wallet? Isn't that the point of fora like this one?
Regarding the 5.75" lamps; there's no reason not to fit four the same, especially as sealed beams haven't been made since 2009/2010 so the only units available are capable of being used for both high and low beams. My Automite went through two MOTs like that without confusing the beam setter and I specifically asked before submitting it whether the low beams had to be extinguished when the high beam was selected - they don't. I also asked whether it would pass with all four dipped beams working and had to disconnect one wire to get the certificate that year
, a switch was fitted later as sometimes, on unlit roads, using four dipped beams is the safest way not to fall into a dyke or worse, to hit a deer as high beams glyph them far too well in advance, where dipped beams at least get you past the beasts before they bolt into the road.
JB
I didn't go looking for the current fleet, they just sort of followed me home and now they won't leave without an extradition order from the Japanese government..

---
Posts: 1399
Joined: Mon Feb 21, 2011 11:22 am
Location: Wigton, Cumbria
There is a lot of truth in History's statement - it is much harder to find a bad car nowadays than it was thirty years ago and, with increasing legislation as to things like ABS, DPF, Cats, airbags and whatever, even "cheap rubbish" is made to higher standards.

Just because you don't like a particular modern, doesn't mean they are bad - unless you can produce some form of statistics that prove they are dangerous, unreliable and uncomfortable (ie an objective opinion). IMHO, the VW seats are fine for me - if I drive something "comfier" (like my old Maxi), my back starts to ache after an hour or so, but I did 600+ miles in a day when I hired a Passat a long time ago and was able to get out and could have dug the garden - it it hadn't been 7:00pm in winter!

As far as having something old as a second (or 32nd!) car - perhaps it is the memory of how the cars were when they were new that makes them attractive. There again, perhaps that's why I don't like Minors or Minis - ours didn't seem to last long and I seem to remember spending inordinate amounts of time servicing and repairing them. I think the second Minor Traveller lasted longest - we had it for six years before it was dangerously rusty (at eight years old). It's a few years since I drove a Silver Jubilee Mini - and, not having driven a Mini for a long time, it was not an enjoyable experience. And no, I am not looking forward to enjoyable trips in the Land Rover - it was bought to do those trips that would make a DPF go into regen mode and to haul mucky stuff around (like tractor wheels, compost, sand and cement).
---
If a 100 new cars of different makes are compared and accessed in order then there will be a number one best car snd a number 100 worst car. The difference betwèn the two will be quite narrow. When it gets to the top 10 cars then its gets so subjective that any of the top 10 could be number 1.

I look at modern cars and some are really rather good.

On the other hand we have the Nissan Juke. Its a riot of curves and bulges.

I do like the Aston cake 'ole on the Ford. The metallic red is so nice.

These cars are future classics.

Check out Citroën new cars such nice shapes.

Bob
---
i dont own brand new cars coz i cant aford them
our newest car is a 2004 galaxy which is a comfy old bus with its own little problems, dodgy wiring in the door & tyres made from purest and most expensive unobtanium....
as for astons i nearly bought a brand new db something until wifey told me we couldnt live in it....we got a house instead... does aston make motor homes now?
---
Ford's 1.0 ecoboost is a bad new car. They are utterly gutless. Ford claim the same power as a 1.6 but they have so little torque you need to change down to get over a speedbump :S
Understeer: when you hit the wall with the front of the car.
Oversteer: when you hit the wall with the back of the car.
Horsepower: how fast you hit the wall.
Torque: how far you take the wall with you.
---
Who is online
Users browsing this forum: No registered users and 3 guests