... Hi
Quick intro, I'm 40, live in Bristol and have a love of 'modern/retro' classics.
I'm sure there's lots of debate as to whether my cars qualify as classic or not, but either way I hope I'll be accepted here.
I have an 1986 VW Golf Mk2 GTI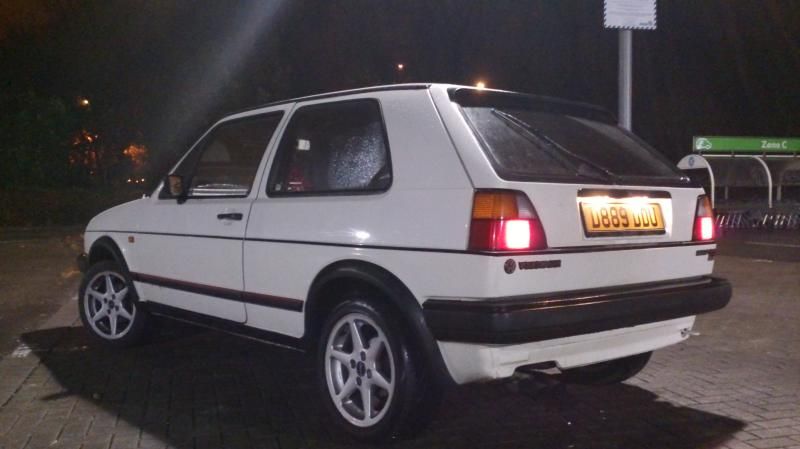 I've owned this for just 2 years, it was bought to relive my 20's and replace the one I had back then. It's been partially restored and is a bit of a rolling ongoing project, it was in daily use until a few months back when the k-jet fuel system gave in. It's currently being refurbished and I hope to be back in it soon.
After attending a few shows and meets with me my wife started to get jealous of all the lovely cars and wanted something for herself, so we got shot of the 2008 Focus estate in favour of this:
It was a BMW 318 e30 touring I had after my first golf, and the car I had when me and my wife got together. My bachelor tourer became the family wagon and a much loved member of the family. So this one was bought for her last year when she said she wanted a BMW like we used to have, but she's just changed jobs which sees her needing a daily for travel, where before she worked locally but now we're in a position where we don't want to add miles and wear and tear to this appreciating classic. So it's up for sale.
Meanwhile, I saw this up for sale.
I resisted for a while but eventually caved in and it's now sitting on the drive awaiting it's turn to get some attention.
I anticipate this one being a ground up (almost) bare metal nuts and bolts build. I want to do it properly and very thoroughly and as it's not required to be transport I can take my time. Hence why I looked around for a new forum as I'm sure once I start digging around I'll know doubt have lots of questions.